Consulting services
---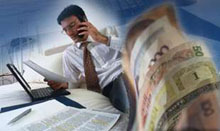 The customer business development
The company IT&T solves the problem of a customer's business, relying on an integrated approach, encompassing all stages of project implementation: consulting, implementation and integration, user training, maintenance. The customer receives a tool of control and enterprise management, collaboration with partners, built the processes of financial management, human resources, IT infrastructure.
Solutions and services provided by IT&T in the field of information technology, prevent compliance with the infrastructure (network, hardware and software) and IT processes of the customer's business processes, creating an effective platform for management and business development.
IT&T has the necessary resources for implementation, development and support of business applications, as well as their integration into a single information landscape of the organization. Offered by IT&T business applications to automate routine procedures, provide support to key areas of activity of organizations, helping to build business processes in accordance with the effective models existing in the world.
IT&T is assisting in the implementation of business strategy, business optimization and improving its effectiveness. In the area of IT consulting experts IT&T will help you develop and implement an IT strategy to build effective processes of management and operation of IT, to develop a reliable system of information security management.
We work in the following areas:
Office of Information Technology (IT).
Management of information security (IS).
Business analysis and preparation of project documentation for implementing business applications. Development of software solutions.
Quality control software solutions.