SCS Construction
---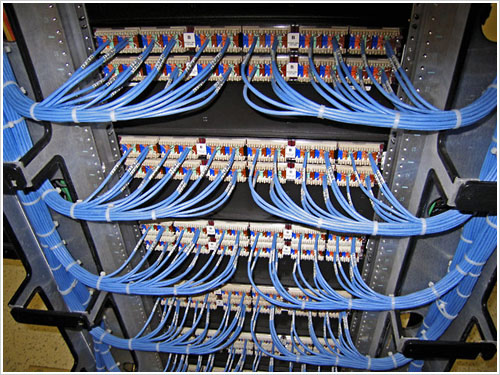 SCS (structured cabling system)
Hierarchical cabling system, which includes all the necessary passive components to create an environment of communication: telecom cables, connectors, patch cords, passive switching equipment.
SCS is a versatile and flexible solution to the problem of constructing the cable infrastructure building, and this infrastructure has been adapted to this building and is capable of supporting a wide range of applications (services).
SCS can be used not only in local area networks and telephony, as well as to transmit signals to the control systems, monitoring, management of economic life of the building (burglar and fire alarm systems, CCTV, etc.). Basic standards for cable equipment room is an American ANSI/TIA/EIA-568 and international ISO / IEC 11801.
SCS Construction
Construction of SCS (structured cabling systems) represents a formidable task, effectively and properly perform which can only by experienced professionals. The company IT & T has repeatedly proved itself as an able partner in building a variety of ACS, including the rather disparate and unconventional.
Structured cabling systems are the basis of modern IT-infrastructure, as well as connect with each other most of the information-computing system: the jobs of employees, server room, phones and PBXs, video surveillance and access control systems, sensors and fire alarm and other electronic and computing tools and devices.

Our specialists perform the full range of activities connected with the construction of SCS:
drafting of the future network;
installation works;
configuring data transfer medium;
testing for efficiency and compliance;
certification of the network and the provision of guarantees.